Talks and reviews
Re-imagining the World - One Humanity Forum, Edinburgh 1989
Touching the Vision -World Goodwill Seminar, London, 2001
Betrayal and Revenge: the Pied Piper of Hamelin - C.G. Jung Seminars Scotland, 2004
Spirituality and Poetry - The Arts & Spirituality, Edinburgh, 2005
Pre-Industrial Survivor; An Artist-Printmaker and Fine Press Books - The Caxton Club, Chicago USA, May 2006.
Some poetry in The Eildon Tree, (New writing from the Scottish Borders)
Some Reviews
" ... imagination is her chief virtue and many of her images reveal a spiritual plane of thought", review of solo show,
The Open Eye Gallery, 1973, Edward Gage in The Scotsman.
Of The Journey of Thomas the Rhymer, The Old Stile Press, 2001. " .... Angela has illustrated the text of the earliest
version of the journey and has written an Afterword relating Thomas' voyage to 'ancient wisdom' and the evolution
of consciousness. .... evocative landscapes punctuate the Afterword ... the seven engravings which illustrate the poem. ...
thoughtful, meditative images ... require good printing ... and of course they get it here, as does the text in Nicolas
McDowall's generous setting .." Simon Brett in Multiples (Newsletter of the Society of Wood Engravers) 2001.
Of The Pyed Pyper, The Old Stile Press, 2002: " ... deep images, the connective tissue of nature and myth"
- Jennie Renton, editor, The Scottish Book Collector, 2002.
Of JOYS, The Old Stile Press, 2004, " Lemaire has opened a door on an enchanting landscape and enabled us to
see beyond appearances .... It is a good time to have this book in an age of gross materialism and
unparalleled cynicism .... Lemaire's imaginative interpretation of Traherne can be a beacon for us ... "
Christopher Hall (sculptor), Resurgence, 2004
Writer and critic Jerrold Northrop Moore writes of JOYS, " ... few books or pictures that I know have
made so dramatic addition as your Traherne", and of Secret Commonwealth, The Old Stile Press, 2005, "It is
rare to produce something absolutely new, and this you all have done. It is highly magnetic."
Of Christmas Sequence, 2008. This was extensively reviewed in The Times Literary Supplement by Nancy
Campbell, who writes of "the page spread ... large enough to imply a stage" and "on every page woodcuts step
in to understudy the absent music ... The artist moves adroitly from depicting the shepherds' buffoonery to
the weeping mothers of the slaughtered innocents; her images have an emotional force rarely equalled
in this medium" ... "in transposing Britten's work from performance to print, The Old Stile Press has
created a tribute not only to the composer but also to the tradition he celebrated."
Of Drama Across the Curriculum, (Scottish Borders Council) - A Teacher's Resource Pack, Elinor Vettraino
writes in Drama Magazine, Autumn, 2009, that she has a "love-hate relationship with resource packs
for the arts in general" - that she had experienced some good ones and others which offer very little
in the way of encouragement for the teacher ... that she "was therefore keen to have the chance to
explore the great depth of detail in this wonderful set of teaching and learning materials for primary
teachers from the Scottish Borders Council. Eloner Crawford and Nicky Toneri have collected an
extensive range of themes, ideas and narratives in this beautifully packaged, multi-media resource.
Supported by exquisite illustrations by Angela Lemaire and the well considered music generated by
Mhairi Lafferty ... " Elinor Vettraino goes on to explain the package, and concludes that "it will generate
a great deal of creative expression and enjoyable learning experiences for teachers and children alike."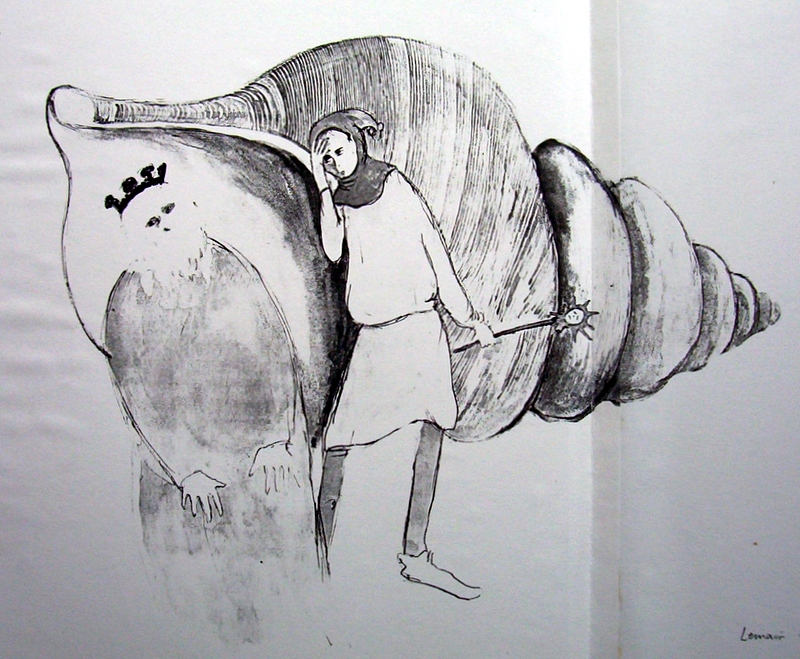 King Lear

Fool: Canst tell how an oyster makes his shell? Lear: No.
Fool: Nor I either; but I can tell why a snail has a house. Lear: Why?
Fool: Why, to put 's head in; not to give it away to his daughters,
and leave his horns without a case.
......Lear: O, let me not be mad, not mad, sweet heaven!
Keep me in temper; I would not be mad!

One of 19 illustrations all in The National Library of Scotland.
Pencil and watercolour with calligraphy. Above, black & white photograph
of coloured illustration - Act I, scene V.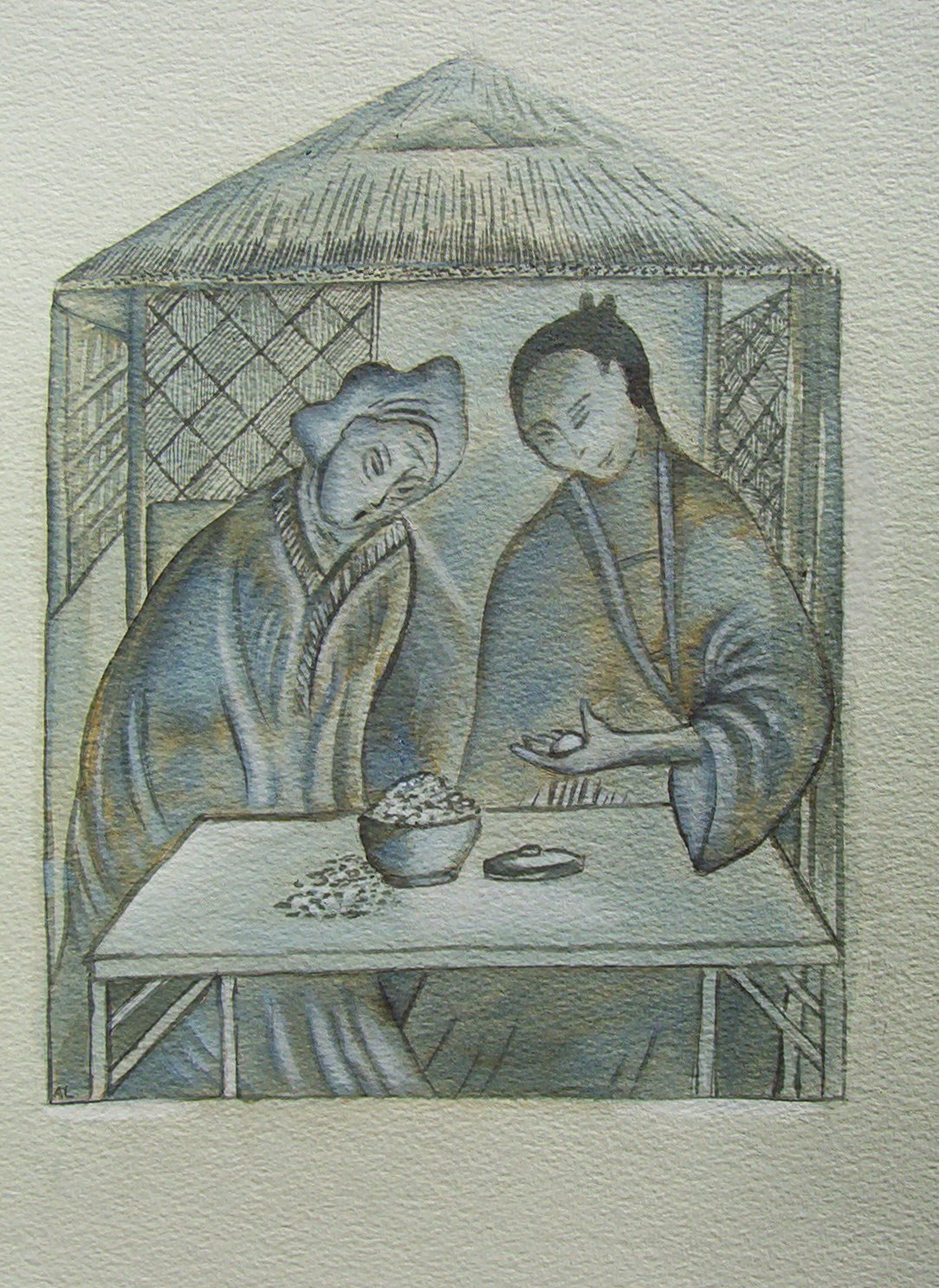 The Dragon's Pearl, (China). Brush & wash illustration for
IMAGINE ... Drama Across the Curriculum.