Home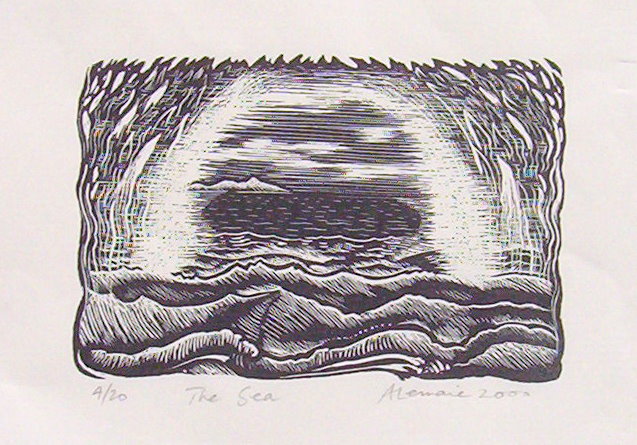 Wood-engraving, The Sea
Angela Lemaire's printmaking consists of most forms of relief print including
wood-engraving. She has been interested in literature and the combination of text
with image, and a lot of her printmaking has been applied to fine press books, her
own artist books or as commissions for illustration. She also paints and writes and
has given talks on a variety of themes including her own work and books.
This website shows only a few examples of her work.
Further enquiries are welcome - see contact.
Angela Lemaire was born in Buckinghamshire and went to the Lyçée Français de
Londres and Wispers School in Sussex, then to PLC Pymble in Sydney Australia.
She returned to Britain in 1962 and went to Chelsea School of Art, London (1963)
and Camberwell School of Arts and Crafts (1964-67, Dip. AD.), where she was taught
relief printmaking by Michael Rothenstein. After this she went to Morley College,
Lambeth, where she continued etching. The wood-engraver Frank Martin, who taught at
Camberwell, gave her a box of wood-engraving tools which had belonged to a colleague
of his who had died. With these tools she taught herself wood-engraving; it hadn't been
taught at art-school. She was by then already friends with the wood-engraver and letterer
Michael Renton and had watched him at work. She decided she would work principally
as a printmaker and with text and image.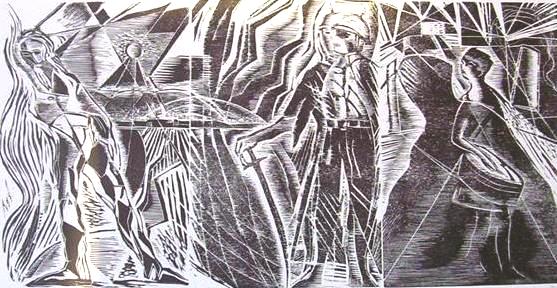 Woodcut 23x45cm, Harlequin, Death & the Drummer Girl, 2005
Mixed and group shows 1968-2013
Proscenium Galleries, London;
Collingwood College, Durham;
Assoc. of Applied Arts, Scotland & North England;
the Bath Festival;
Katherine House Gallery, Marlborough;
Hart Street Gallery, Fife;
Edinburgh College of Art;
venues with the Scottish Association of Woodworkers;
The Royal College of Physicians, Edinburgh;
Robson Gallery, Selkirk;
5th British Int. Miniature Print Exhibition;
DLI Museum & Durham Art Gallery;
The Lennox Gallery, London;
group shows with the Society of Wood Engravers;
Biennials in Switzerland, Belgium and Italy;
Fine Press book fairs;
Mellerstain Gallery, Mellerstain House, Scottish Borders
The Power of the Press - 500 years of printing in Scotland
The Cominge of the Fludde, The Britten-Pears Library, Aldeburgh
A Finer Line, Mainhill Gallery, Harestanes, Scottish Borders
Mellerstain Summer Exhibition with McClure Art
Solo shows:
Stadia Graphics Gallery, Sydney, Australia (1975);
The Open Eye Gallery, Edinburgh (1977);
St. Mary's Music School, Edinburgh Festival Fringe (1993);
A retrospective of prints and books 1970-2000 at Grey College, Durham, (2001);
Aikwood Tower, Selkirk, (2002).
EICSP (Edinburgh International Centre for Spirituality & Peace),
Eye of the Heart, Chaplaincy Centre (2009)
Text & Image, McNaughtan's Bookshop, 2011
Alpha & Omega, McNaughtan's Bookshop, Edinburgh Festival Fringe, 2013
Commissions have included engravings for
Graham Kerr's The Complete Galloping Gourmet Cookbook, Grosset & Dunlap, New York (1972);
Ian Hamilton-Finlay's More Proverbs for Jacobins (1992);
The Folio Society's The Folio Golden Treasury (1997) and others.
Work has appeared in various publications including
Forty-Five Wood Engravers, Whittington Press (1982);
Sixteen Contemporary Wood-engravers, printed by David Esslemont (1982);
FISAE Catalogue of European Ex Libris artists (1984);
Modern British Bookplates, Silent Books (1990);
Engravers Two, Society of Wood Engravers, Silent Books (1992);
An Engravers' Globe: Wood Engraving World-Wide in the Twenty-First Century, Primrose Hill Press, 2002;
International Contemporary Bookplates, (Portugal 2006);
Scottish Bookplates, The Bookplate Society, 2006,
and others.
Angela Lemaire's books produced in collaboration with The Old Stile Press, all of which have
included texts of her choosing, an Afterword written by her and relief images,
either engraving, wood and linocut, are:

The Journey of Thomas the Rhymer (2000);
The Pyed Pyper (2002);
JOYS, passages from the works of Thomas Traherne, (2004);
Secret Commonwealth by Mr Robert Kirk, 1691, (2006);
A Christmas Sequence - From the Chester Miracle Cycle,
Introduction by Dr Andrew Plant (2008).
The Plague, 2nd Edition (2009)
Jubilate Agno, by Christopher Smart (2012)
Much of this graphic work, the prints and books and other commissioned work are held in archive in
the National Library of Scotland. This archive includes letters to her from Michael Renton as well as
letters to her from a wide circle of artists, writers, typographers and friends.
Other libraries which hold the special books include
Swathmore Library, Pennsylvania, USA;
Armstrong Browning Library, Wako, Texas, USA;
Eton College Library, Cambridge University Library,
The Bodleian Library and others, as well as private collectors.
Some bookplates are held at the Museo Del-Ex Libris, San Paolo di Jesi and the Museo
Communale Arte e Informazione, Senigallia, Ancona, Italy.
Angela Lemaire is a member of The Society of Wood Engravers.
She lives and works in the Scottish Borders and has one son.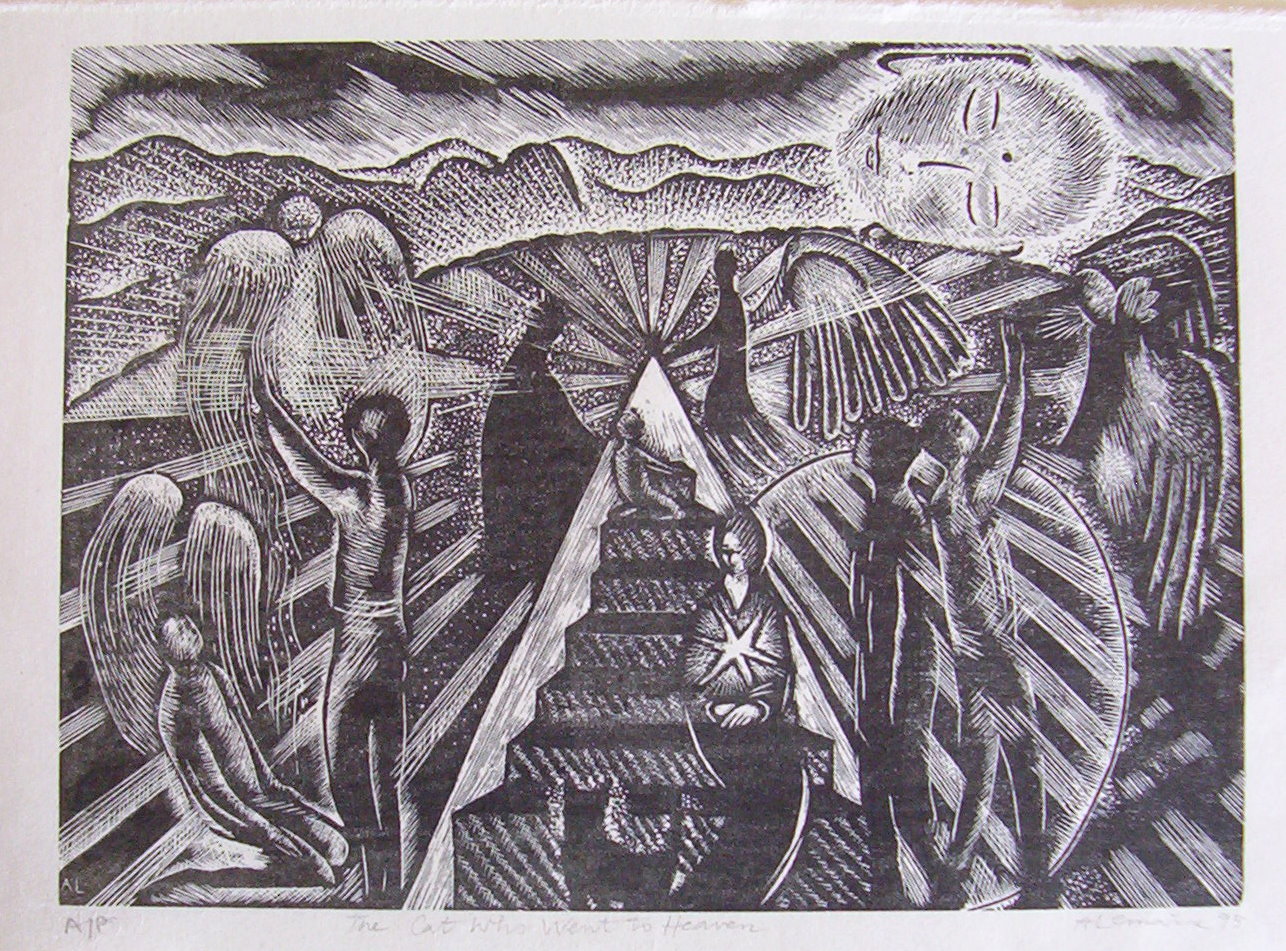 The Cat Who Went to Heaven, wood-engraving
home prints commissions books paintings bookplates talks contact